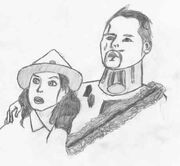 Created by David Hartman.
Once again, Dave Hartman uses superb technique to take us on a mindblowing journey into the horrific and comical. Once again he is stopped dead in his tracks by the audience. We're ready for the next one, Dave! Dave? Where'd you go?
Ad blocker interference detected!
Wikia is a free-to-use site that makes money from advertising. We have a modified experience for viewers using ad blockers

Wikia is not accessible if you've made further modifications. Remove the custom ad blocker rule(s) and the page will load as expected.