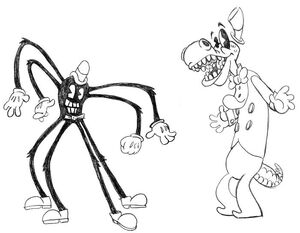 Rob Schrab's cardboard and hot glue universe wowed audiences for five straight months, right up to the end of the 2003 season, when it was cancelled by ONE vote - a vote withheld by its own creator. Ringwald and Molly is a must-download and will forever occupy a space in Channel 101 history as one of the original five Prime Timers, along with STA and B & MG.
The characters originally appeared in Ringwald and Molly In: Hobophobic!.
Official Webpage with DVDs available to buy, featuring Director's Commentary, Outtakes and Behind the Scenes.
Ad blocker interference detected!
Wikia is a free-to-use site that makes money from advertising. We have a modified experience for viewers using ad blockers

Wikia is not accessible if you've made further modifications. Remove the custom ad blocker rule(s) and the page will load as expected.