Nick Bernardone is a filmmaker living in the NYC area. In addition to working on the NBC show "30 Rock", he will be working in the writer's office for the up coming Comedy Central show. He also produces videos which can be seen @ Hot Garbage Video .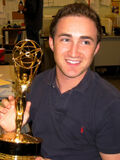 Nick began working on the NBC show "30 Rock" staff starting in Season 3 (2008). In his time there he's worked in production, shot with the Video Unit, ADR work, & was a sex offender. Starting in Season 4, he joined the writing staff for the show's Webisodes. They can be seen @ NBC.com or HULU
Channel101:NY
Edit
Nick was the creator of the show "Bromos ". It ran 4 episodes, and was nominated for 5 channy awards including Best Show, Best Writing & Best Director.
Nick also writes, edits and acts in "Skate City ".
Nick created the show "Army Husbands " which de-throned "9AM Meeting" from its six consecutive 1st place streak.
Ad blocker interference detected!
Wikia is a free-to-use site that makes money from advertising. We have a modified experience for viewers using ad blockers

Wikia is not accessible if you've made further modifications. Remove the custom ad blocker rule(s) and the page will load as expected.