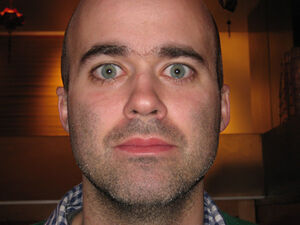 Mitch Magee is a comedy personality and auteur of the New York comedy scene. He is a former member of Monkeydick and has appeared in several sketch shows at the UCB Theatre, including Citizen Nuts and Gameface.
Mitch is currently best known for his comedy videos. 
Multi-part series "Sexual Intercourse: American Style" and "Mister Glasses" were created for Channel 101 NY screenings.
Mitch was a finalist for the 2007 Andy Kaufman Awards and performed at Caesars Palace in Las Vegas.
Loading RSS data...
Ad blocker interference detected!
Wikia is a free-to-use site that makes money from advertising. We have a modified experience for viewers using ad blockers

Wikia is not accessible if you've made further modifications. Remove the custom ad blocker rule(s) and the page will load as expected.