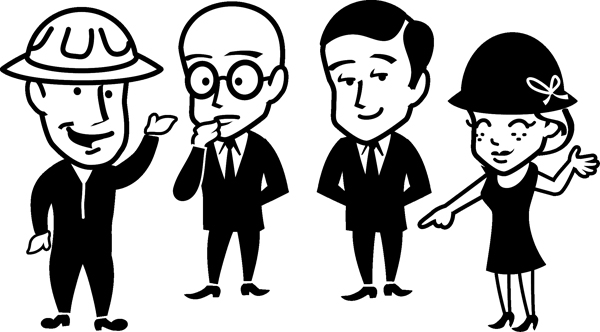 Created by Mitch Magee.
Accepted by both Panels, Magee's show was not picked up by the Cinespace Audience for more episodes at Channel 101 LA, however Mister Glasses was a long-running success at Channel 101:NY.
NY.Channel101.com Summary
Edit
Gorgeous black and white photography, a character obsessed with modernist architecture...what's not to like? Mister Glasses left Prime Time without firing a shot in November, leaving behind a moody, AMC-like 8-episode run.
Channel101.com Summary
Edit
Mister Glasses is an modernist architect who has fallen in popularity. But he's decided to start over with some new friends.
Episode One
Edit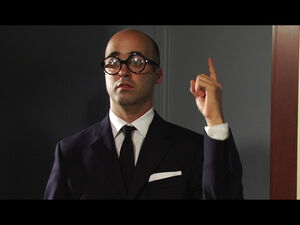 After weathering a storm of commissions, Mister Glasses reaffirms his architectural philosophy. Look out for a cameo from old 102 friends John Gemberling and Curtis Gwinn.
NY Screening Info
Edit
screened: 2007-11-05 at tribeca cinemas
votes: 89/94 - 94.68% share; placed 2nd of 9
LA Screening Info
Edit
SCREENING DATE Sunday, October 28th - 2007
AUDIENCE SHARE 35.4% (7th at screening with 62 votes)
Episode Two
Edit
Can an architect build a bridge between two hearts? Mister Glasses helps a lovelorn student using a miniature erection.
Screening Info
Edit
screened: 2008-02-05 at pianos
votes: 104/113 - 92.04% share; placed 1st of 10
Ad blocker interference detected!
Wikia is a free-to-use site that makes money from advertising. We have a modified experience for viewers using ad blockers

Wikia is not accessible if you've made further modifications. Remove the custom ad blocker rule(s) and the page will load as expected.