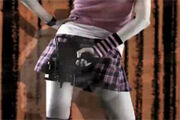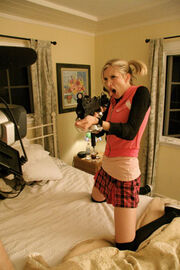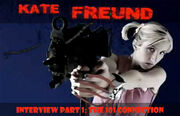 Created by Kate Freund.
Summary
Three hot chicks fight monsters to protect the world, armed only with their guns and sex appeal. But what do the Mega-Girls do when they meet monsters with an alternative lifestyle?
Screening Info

SCREENING DATE Sunday, January 28th - 2007
AUDIENCE SHARE 38.7% (7th at screening with 103 votes)
Director ... Kate Freund
Writer ... Kate Freund
Music Composition ... Jacquie Thropay
Music Vocals ... Jacquie Thropay
Cinematographer ... Rob Schrab, Matt Freund, Tyler Soper
Editor ... Kate Freund, Rob Schrab
Costume Designer ... Kate Freund
Make-Up ... Kate Freund
Practical Effects ... Kate Freund, Rob Schrab
Digital Effects ... Kate Freund, Rob Schrab
FUN FACTS
Edit

The song playing during Myke's dance is called "Dracula's Wedding." It's from "The Love Below," Andre 3000's half of "The Love Below/Speakerboxx." The song played during the Zombie gunfight at the beginning is Rock it Hard by The Soviettes.
This template is outdated due to the redesign of Channel101.com. If you see this, please add an updated URL for the show's page.
Ad blocker interference detected!
Wikia is a free-to-use site that makes money from advertising. We have a modified experience for viewers using ad blockers

Wikia is not accessible if you've made further modifications. Remove the custom ad blocker rule(s) and the page will load as expected.