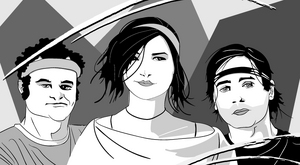 Created by Abed Gheith and Erni Walker.
Screening Info
Edit
First Screening Sunday, September 30th - 2007
Last Screening Sunday, March 30th - 2008
Last Audience Share 35.4% (8th at screening with 84 votes)
Abed Gheith and Erni Walker created this high-energy show about the lines that blur between fighting and dancing.
This template is outdated due to the redesign of Channel101.com. If you see this, please add an updated URL for the show's page.
Ad blocker interference detected!
Wikia is a free-to-use site that makes money from advertising. We have a modified experience for viewers using ad blockers

Wikia is not accessible if you've made further modifications. Remove the custom ad blocker rule(s) and the page will load as expected.