The Grandma's Virginity Podcast is a podcast by Justin Roiland, Ryan Ridley and Jackie Buscarino . Smith Harrison is the show's announcer. Some Channel 101 regulars have been guests on the show, including Dan Harmon, Abed Gheith, Steve Agee and Derek Waters.
It has its own Wiki here!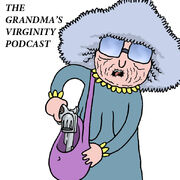 Ad blocker interference detected!
Wikia is a free-to-use site that makes money from advertising. We have a modified experience for viewers using ad blockers

Wikia is not accessible if you've made further modifications. Remove the custom ad blocker rule(s) and the page will load as expected.