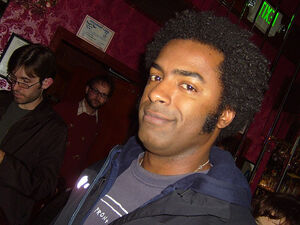 DeMorge Brown was born in Texas, and raised in New York. Currently, he lives on a hilltop in the shadows of L.A.'s Dodger Stadium. He has written and acted with the Upright Citizens Brigade and The Groundlings. DeMorge can be seen in "Minor Accomplishments," "According to Jim" and "Punk'd." If you listen closely, you'll hear him mumbling in "Family Guy" and "American Dad." His love of horses and soccer brought him to the cast of VH1's Acceptable.TV, and he has been a staple of Channel 101 LA since.
Loading RSS data...
Ad blocker interference detected!
Wikia is a free-to-use site that makes money from advertising. We have a modified experience for viewers using ad blockers

Wikia is not accessible if you've made further modifications. Remove the custom ad blocker rule(s) and the page will load as expected.