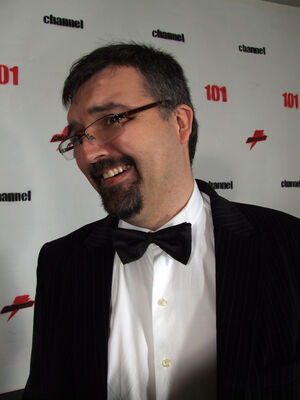 This template is outdated due to the redesign of Channel101.com. If you see this, please replace this with an updated link to the person's 101 LA talent page.
Disney Television Animation
Edit
Sony Pictures Television Animation
Edit
Other current animation clients include:
Edit
Rob Zombie / Geffen Records
Edit
Hellbilly Super Deluxe ( 13 new illustrations )
American Witch Music Video ( Director )
Lords of Salem Music Video ( Director )
Silver Sphere Entertainment
Edit
NBC Universal Television
Edit
New Line Cinema
Edit
Kanpai Pictures
Edit
Publications
Edit
Image Comics - Steve Niles' Strange cases
Image comics - Scud #23 Cover
Image Comics - Adventures of Edgar Allen Poo cover
Image comics - Cemetery Blues #3 cover
Sideshow Monkey press - The Art of David Hartman
Alias Comics - Revere #4 cover
Viper Comics - Sasquatch Anthology
Boom Studios! - Fear the Dead
Rob Zombie / Lion's Gate Films - Devil's Rejects Movie Book
IDW Publications - Devil's Rejects Comic Book
Asylum Press - Satan's Three Ring Circus of Hell
Graverobber Publications - 1313 Magazine
Knight Press - Rite Comic book
Green Ronin Press - Nocturnals: Midnight Companion
SIDESHOW MONKEY SHORT FILMS
Edit
Education
Edit
The Columbus College of Art and Design (1990-1994)
BFA in Illustration with a minor in advertising
Awards/Misc.
Edit
Annie nomination - Best Director for animated Television program
Emmy nomination - Roughnecks: Starship Trooper Chronicles.
Silver Award - Spectrum Fantastic Illustration (comics category)
"Mary Jane Watson" Spiderman Design voted 2nd in Sci-FI Channel Magazine's "25 Sexiest Women in Animation"
First of twelve people picked internationally for L. Ron Hubbard's Illustrators of the Future award in 1995.
Commentary on "Roughnecks: Starship Troopers Chronicles" DVDs and "Spider-Man animated" DVD.
Award for best Flash animated short over 2 minutes at the "Animation Celebration" convention.
4 Channy Awards for Short Films - Best Director, Best Special FX, Best Animated Series, Best Cinematography
Ad blocker interference detected!
Wikia is a free-to-use site that makes money from advertising. We have a modified experience for viewers using ad blockers

Wikia is not accessible if you've made further modifications. Remove the custom ad blocker rule(s) and the page will load as expected.