Ad blocker interference detected!
Wikia is a free-to-use site that makes money from advertising. We have a modified experience for viewers using ad blockers

Wikia is not accessible if you've made further modifications. Remove the custom ad blocker rule(s) and the page will load as expected.
Unironically loves the song "It's Raining Men." And doesn't feel like that threatens his heterosexuality in any way.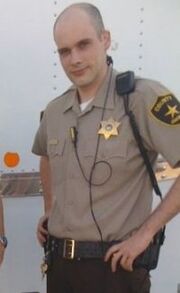 Wade and Eric Sold a Movie #3 ... Cinematographer
Wade and Eric Sold a Movie #2 ... Sound
Wade and Eric Sold a Movie #1 ... Sound
Seinfelnd #1 ... Creator, Director, Writer, Producer, Lighting Director, Crew
Shitbuster (2008) #3 ... Director, Writer, Producer, Set Decorator, Costume Designer
Shitbuster (2008) #2 ... Writer, Producer, Costume Designer
Shitbuster (2008) #1 ... Creator, Writer, Producer, Costume Designer
Cheese Frog And Joe #1 ... Creator, Director, Writer, Editor
The Platteville Terror #1 ... Creator, Director, Writer, Editor, Sound
The Muhammads #1 ... Sound
An Historical Moment #1 ... Crew