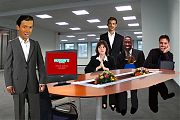 Created by Kelsy Abbott.
Screening Info
SCREENING DATE Sunday, April 26th - 2009
AUDIENCE SHARE 32.8% (8th at screening with 42 votes)
An animated show about adventures in the advertising world.
Cast and Crew
Edit
Director ... Kelsy Abbott
Writer ... Kelsy Abbott
Producer ... Kelsy Abbott
Editor ... Kelsy Abbott
Animator ... Kelsy Abbott, Deanna Rooney
Illustrator ... Kelsy Abbott, Myke Chilian
Sound ... Kelsy Abbott
Ad blocker interference detected!
Wikia is a free-to-use site that makes money from advertising. We have a modified experience for viewers using ad blockers

Wikia is not accessible if you've made further modifications. Remove the custom ad blocker rule(s) and the page will load as expected.